Link tracking is a fundamental part of online business. If you don't know where your traffic is coming from then you don't know how to optimize your website, your sales process, and your business.
Google provides a set of parameters you can add to any link which automatically get tracked through Google Analytics. This means you can now easily track exactly where your traffic and conversions are coming from. Problem is, these parameters aren't easy to remember, and its rather tedious to navigate to the Google URL builder page everytime you want to create a trackable link.
Now you don't have to. You can create Google Url Builder links very easily using the Magic Url Shortener extension for Google Chrome. You can even shorten those links using the popular bit.ly shortening service all through one interface.
Here is a quick tutorial detailing how to use Magic Url Shortener…
Navigate to the Url you wish to create a link for

Click the Magic Url Shortener icon in Google Chrome

Enter the required fields for Google Analytics tracking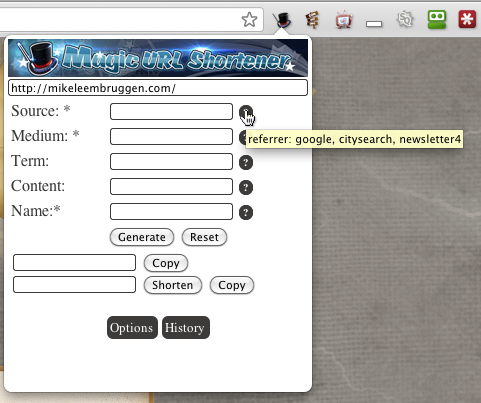 Note: You can mouse over the help icons to see what Google recommends for each field.
Time Saver – You can quickly select values you have previously entered from a drop down menu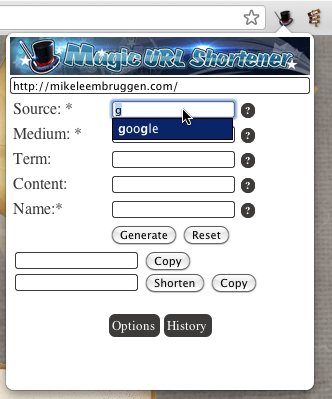 Click "Generate"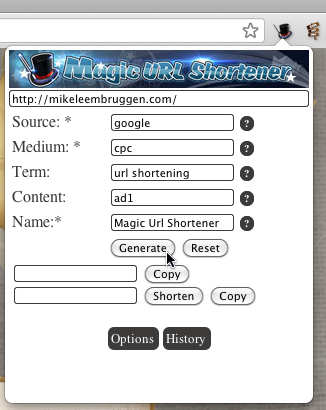 Copy the long Google Analytics trackable link to your clipboard if you wish to use the raw link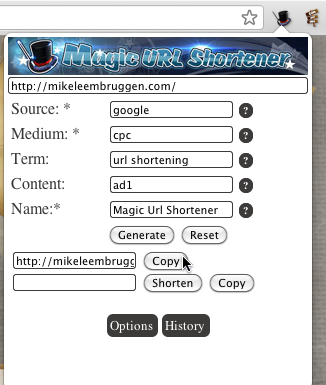 Click 'Shorten' to shorten the long url through bit.ly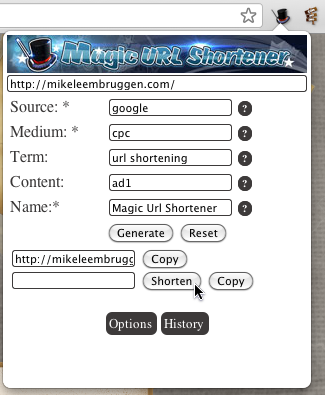 Update: In Magic Url Shortener Version 2 you can now shorten urls through your own domain using the free YOURLS.org script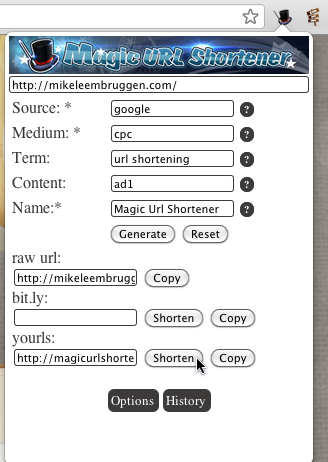 Copy the shortened Url to the clipboard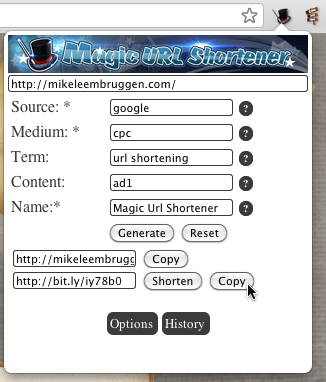 Click the 'History' button to see all your previously created Urls

The History tab is provided for your reference if you ever need to re-use previously shortened Urls

Note: Before you can create a shortened url you must enter your bit.ly User name and API Key into the Options panel

Enter your bit.ly details and click 'Save'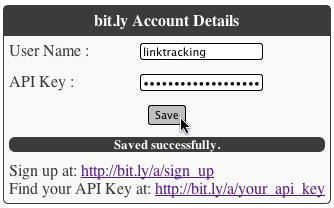 Update: Enter your YOURLS details alongside bit.ly and click 'Save'

That's It!
Purchase The Magic Url Shortener Package Below