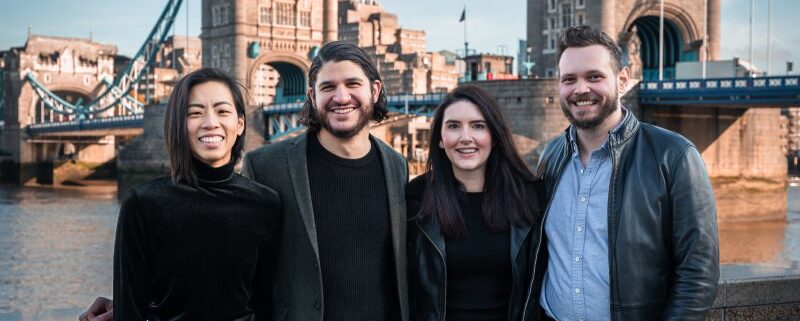 Four years to build a company that has attracted $100 Million AUD in total funding. Incredible. This isn't some AI, military, or space-age techno gadget invention company either.
Mr Yum is a tech-hospitality service startup that makes marketing, payments, and ordering easy and seamless for events, restaurants, and other hospitality businesses.
You wouldn't believe they survived through COVID-19 with the devastating impact on the hospitality industry but they did, and now have the goal to become "The Shopify for Restaurants".
The widespread adoption of QR codes throughout the pandemic actually provided a boost to company growth and transition to digital menus.
Founded in 2018 by the team of Kim Teo, Andrei Miulescu, Kerry Osborn and Adrian Osman 🚀, the Melbourne based company now has $73 million USD in funding and offices across Australia, the United Kingdom, South Africa, and the United States.
According to their website, Mr Yum has been serving leading brands such as Sydney Airport, Live Nation, Strings of Life, Wayland's Yard, and Magic Mike Live throughout the lifespan of the company.
I love this little story from an interview between Airtree's James Cameron and Mr Yum's founder Kim Teo:
What was your thought process and plan like for international expansion?
The reality of being an Australian company is you can't build a very big business with only local customers and networks. And it's difficult for a business like Mr Yum to go international without people on the ground.
We were deciding between the US and UK for our international expansion, and we chose LA for a whole bunch of different reasons. Because of COVID, we either had to go for three months or stay in Australia. We applied for an exemption to travel and were lucky that it got approved pretty quickly. We're lucky that Kerry and Andrei could stay in Australia and continue to build the team there.
We weren't vaccinated and it seemed like the most insanely ridiculous thing to do — LA was one of the biggest COVID hotspots at the time. Adrian and I booked a one-way ticket and there were 10 people on the flight. We looked at each other and said, "This is either the best thing we'll ever do or the most ridiculous thing that we'll ever do".
Pivot
When the COVID-19 pandemic hit in March 2020, the team built out a delivery platform for its customers in a matter of days, providing an alternative to the likes of UberEats and Deliveroo, and allowing the startup to turn a profit for at least parts of the year.
Funding
Feb 1st, 2019 – Pre Seed Round – Rish Chaudhuri
May 31, 2019 – Seed Round – Australia Venture Co. – $1.5M
April 20, 2021 – Venture Round – TEN13 – $11M
November 29, 2021 – Series A – 12 Investors – Tiger Global – $89M
Worthy note: Mr Yum achieved the largest Australian Series A funding round for a female-led company, and the third-largest Series A in Australian history.
Investors in the round, led by Tiger Global Management, include Skip Capital (the private fund of Atlassian co-founder Scott Farquhar and Kim Jackson), Tennis Australia's Wildcard Ventures, Broadsheet founder Nick Shelton and Kogan founder Ruslan Kogan. Existing investors TEN13 and AirTree also followed-on in this round, making their largest investments to date into the company.
Other investors in Mr Yum include US-based Australian NBA star Patty Mills of the San Antonio Spurs and Grammy Award winning artists Rüfüs Du Sol.
Investors & Financials
While Teo doesn't share any revenue growth figures, she does point out that the team has grown to more than 120 full-time employees, up from a team of 12 pre-pandemic.
Mr Yum has more than 1500 venues on the platform, with a total of 13 million users.
AirTree partner James Cameron said it's rare to see consumers adopt a new behaviour as quickly as they have with Mr Yum's products.
"Their QR codes have now become ubiquitous in Australia, and it's happened pretty much overnight," he noted. "They're now helping hospitality venues all over the country bounce back from a very tough period through COVID, and with this new funding they are able to double down on their international markets, where they are already growing faster than they were in Australia."
Airtree is a venture capital fund focused on investing in the best Australian and New Zealand technology founders. AirTree's mission is to back founders from the very start with strong conviction. They've partnered with over 80 of the fastest growing and most impactful tech companies that are transforming a wide variety of industries. In 2022, Airtree launched a new fund with $200 million dedicated to seed stage companies and $50 million to Web3 projects.
TEN13 is another Australian-based venture capital company that focuses on companies in their early stages. It currently has 33 investments and has invested $7.59 million in Mr Yum during a Venture Round on April 20, 2021.
Tiger Global Management, a US-based investment firm that acts as a hedge fund, a private equity firm, and a venture capital company. Tiger Global is Mr Yum's biggest investor, investing $65 million in the Series A funding round last November 29, 2021.
Acquisitions
Mr Yum has also made one acquisition, picking up MyGuestlist – a reservations and marketing management tech company – last May 3, 2022.
Insights
As of writing – they recently laid off 44 employees (17% of its 260-strong workforce).
According to a blog post by Teo, inflation has hurt the business, which led to this decision. They do, however, have solid investors and a good amount of money on their war chest, so time will tell if they come out of this stronger.
http://mikeleembruggen.com/wp-content/uploads/2022/09/mryum-founders.jpeg
533
800
Michael Leembruggen
http://mikeleembruggen.com/wp-content/uploads/2018/11/mike-signature-300x97.jpg
Michael Leembruggen
2022-09-16 02:45:53
2022-09-19 12:08:00
Startup Spotlight: Mr Yum (Hospitality-Tech)