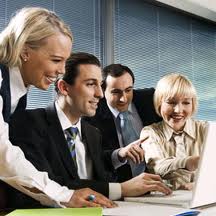 Something I'm going to focus on this year is building effective management skills. Predominantly people management, but also time management, idea management, process management, and systems management. I think this is something that a lot of people in the internet marketing community lack, because you don't need a business degree or any formal training to jump into internet marketing and call yourself a business owner. It's so low cost to start a website and call your website an online business, but do we really have the skills to effectively manage this online business and take it to great heights.
This post stems from my previous post about The New Era of Internet Marketing.
Certainly in the offline world, you wouldn't consider starting a business if you knew you had no management skills, but an internet marketing business is treated entirely different because the barrier to entry is low.
I'm looking at James Schramko's business and noticing one of his great strengths is management. This is something he learnt in the offline world, and has transferred into his own online business. The way he has built a successful team of "ninjapinos" as he calls them, is nothing short of amazing and no trivial thing to achieve. A lot of us have trouble managing just one freelancer, let alone 16 of them! I'm waiting for him to release a course on outsourcer management, but until then, I'm going to be researching the web, reading books, and posting about the strategies and tips I find that work for me.
With such a big emphasis on leverage in the online community we are all looking to outsource, but when we go to hire outsourcers we often fall flat on our face because we don't have the skills to effectively communicate to them, motivate them, and manage them.
Myself, like many others nowadays being younger and launching my internet marketing career at a young age before I really had a high paying, prominent job, and stature in the offline world, I need to work on some of these fundamentals.
I have been making a full time income from internet marketing for 2 years now and I've had my share of successes and failures. My initial success was purely due to persistance. I didn't start off with any mentor or friends in the industry that I could talk to or learn from.
Now that I have both, I'm noticing some key fundamentals about what it takes to not just make a 6 figure income, but 7 figures and beyond.
What's your thoughts?
http://mikeleembruggen.com/wp-content/uploads/2018/11/mike-signature-300x97.jpg
0
0
Michael Leembruggen
http://mikeleembruggen.com/wp-content/uploads/2018/11/mike-signature-300x97.jpg
Michael Leembruggen
2011-01-19 11:11:54
2011-01-19 11:11:54
Are you managing your business… or is your business managing you?