The Internet only become more and more important to business owners in the last 5 years. Although 5 years doesn't seem like a long time. It's surprising to see just how far technology has come in that short space of time.
The internet has made communication easier. Dissemination of information and other data has became almost instantaneous. People from all around the globe can now be connected. It has become a solid platform where people can transact and conduct business twenty four hours a day, seven days a week. There's no restrictions on opening and closing hours and it has opened up the doors to essentially millions of people who can visit your business page.
In this article, I am going to show you a glimpse of the current trend of internet usage specifically for Australia.
Australia
Internet Usage Stats and Telecommunications Market Report
---
Internet Usage Statistics:
17,033,826 Internet users as of Aug/2009, 80.1% of the population, according to Nielsen.
Facebook Users in Australia:
9,520,960 as of August 31, 2010, according to Facebook.
Internet Broadband Subscribers:
4,700,200 Broadband subscribers (connections) as of Sept./07, 22.8% of the population, according to OECD.
Internet Growth and Population Statistics:
| | | | | | |
| --- | --- | --- | --- | --- | --- |
| YEAR | Users | Population | % Pop. | G.N.I. p.c. | Usage Source |
| 2000 | 6,600,000 | 19,521,900 | 33.8 % | $19,992 ('00) | ITU |
| 2007 | 14,729,191 | 20,434,176 | 70.2 % | $21,650 ('06) | Nielsen |
| 2009 | 16,926,015 | 21,262,641 | 79.6 % | $32,220 ('06) | Nielsen |
| 2010 | 17,033,826 | 21,262,641 | 80.1 % | $32,220 ('06) | Nielsen |
G.N.I.p.c. = Per Capita Gross National Income in US dollars, historic series.
Australia Internet Demographic Information:
Population:
20,507,264 (2005 est.)
Age structure:
0-14 years: 19.8% (male 2,116,875/female 1,943,563)
15-64 years: 67.2% (male 7,085,692/female 6,695,189)
65 years and over: 12.9% (male 1,193,435/female 1,452,002) (2005 est.)
Median age:
Total: 36.56 years (2005 est.)
Female: 37.4 years
male: 35.74 years
According to this data, Australian internet users are mostly in the 15 to 64 years old age bracket. This only means that most of them already have the capacity to purchase.
People in Australia alone spend 11 billion dollars in online purchases. The question now is: "Do you want your business to get a portion of those 11 billion dollars that our fellow Australians are paying for online products and services?"
The statistics I have gathered clearly shows that Australians are not shy when it comes to purchasing both goods and services online. Australia is now the third highest country in the world when it comes to utilizing e-commerce.
The internet isn't a story of how beneficial it is for home usage anymore. The internet now presents an opportunity for your business to step up and reach out to more potential clients. Internet marketing is not easy as it seems but through the proper marketing techniques, and strategy – you'll reap the harvest of your investment.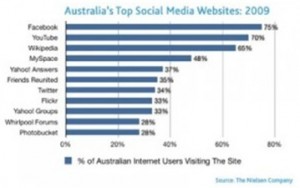 The key to internet marketing is to go where the people go. Facebook, Youtube, Myspace, Twitter, Yahoo groups are only some of the social media sites that we can use to reach out to the potential clients and eventually drive traffic to our site.
Australia's Fastest Growing Social Media Activities
Activity
2009
2008
YOY Change
Read messages on Twitter
23%
7%
16%
Interacted with a brand via social network
38%
23%
15%
Read a wiki
72%
61%
11%
Posted on Twitter
13%
4%
9%
Browsed/followed brands on Twitter
14%
5%
9%
Interacted with people on a social network
63%
55%
8%
Watched online video for product/service
63%
57%
6%
Updated a social networking profile
57%
51%
6%
Looked at a social networking profile
73%
67%
6%
Posted pictures online
68%
63%
5%
Source: The Nielsen Company
The opportunity to take your business online and reach thousands more customers is already in your hands.  It's either stay in the traditional OFF-line market where people sell and advertise through newspapers with less and less readers each week, or we reach out to the entire country through a website, or social media platform which is open to thousands or even millions of visitors. It's time to think outside of the box.
Mike Leembruggen is available for consulting, contracting, and tech implementation. Mike lives and breathes 'internet marketing' and has a passion for building automated systems and marketing funnels that convert into big dollars. If you would like to speak to Mike, please send him a quick message through one of the contact forms on this site.
Latest posts by Mike Leembruggen (see all)
http://cdn.mikeleembruggen.com/2014/02/logo-mikeleembruggen.png
0
0
Mike Leembruggen
http://cdn.mikeleembruggen.com/2014/02/logo-mikeleembruggen.png
Mike Leembruggen
2011-03-24 11:34:19
2011-03-24 11:34:19
A Glimpse of Australian Internet Usage and How It Can Affect Your Business